Watanabe from Japan
WATANABE is known for the accurate and legible map. Most globes are handmade. Surface of globes are all flat and have no relief.
WW White Map acryl base
GLOBE SHOP SALE PRICE 14,000yen (tax in, free shipping) →ORDER
No.3206 /// Japanese text only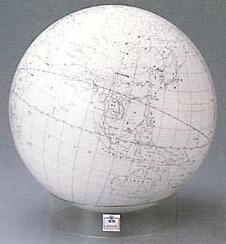 An unique white map globe. You can write anything on the polyurethane-painting finished globe with erasable marker and wipe it off. Recommendable for making your original-color globe. Names of countries, cities and some physical information are written. The ball can be held up to make it easier to write or see the names.
Diameter 32cm(12.6") Height 33cm(13")
Larger View
Close the previous view to open the next one